What Did Our Summer Kit Include?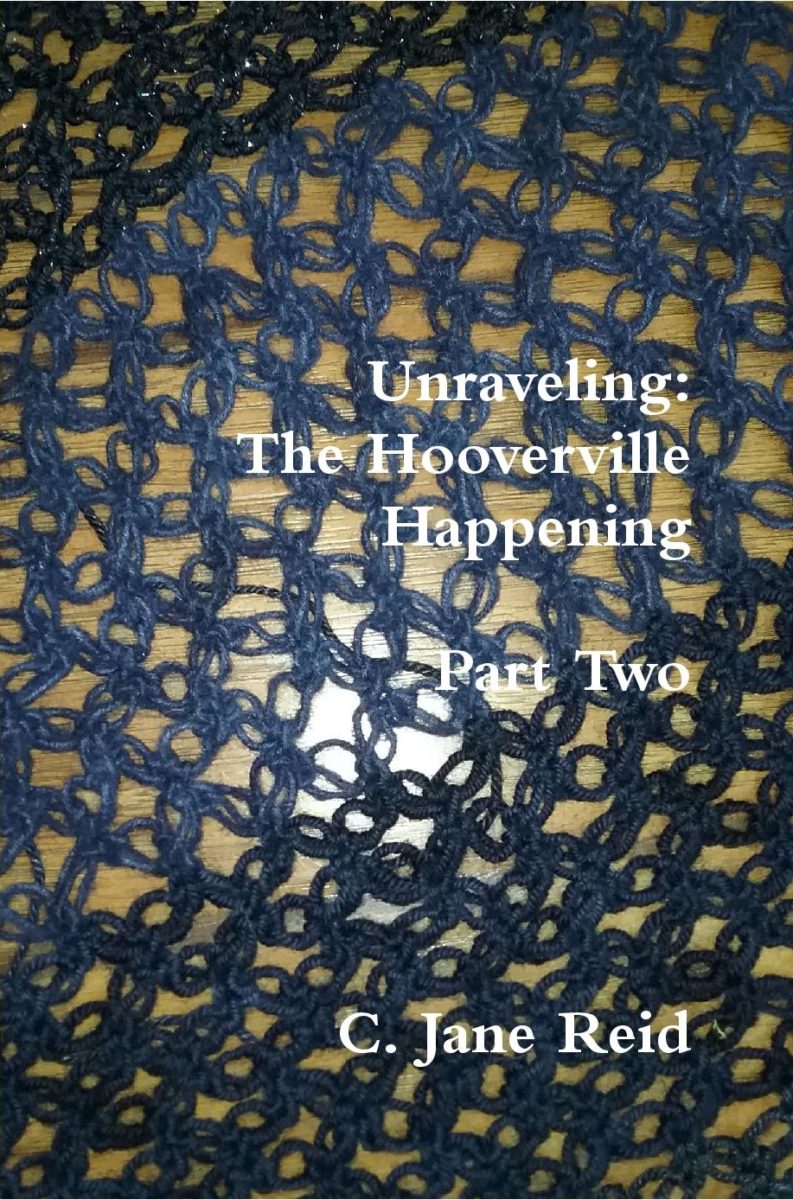 The First Half of Unraveling: The Hooverville Happening
by author C. Jane Reid.
With the help of her pals, Tommy and Al, Ned is deep into figuring out what happened to the leader of the Tin Can Gang. She's also depending on the vets of the Veterans Home for advice, putting up with their unwanted attempts to keep an eye on her. As she investigates, though, she has to keep her secret, the fact that she's not Just Ned, but a girl, from the gang. Add in the involvement of another local gang, and, shockingly, an old family rival, and Ned will be lucky to come out of it all unscathed. But it is the Great Depression and who won't come out scarred in some ways. Ned's about to find out.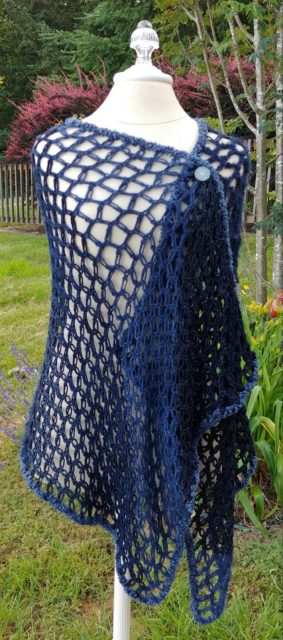 Love Knot Wrapghan Pattern
Good yarn is hard to find during the Great Depression, and since nothing goes to waste, Ned 'unknits' old sweaters to reuse and combine with other small leftover balls, mimicked by the "Fusion" of yarns in this project. A lacy love knot stitch helps stretch the yarn into a lengthy wrap that can also double as a lapghan. The love knots symbolize the deep and abiding love that both Ned and Al have for their families. And maybe, eventually, each other. The pattern from Laurinda Reddig will be available soon.
"Ficstitches Fusion" Yarn from Cat Mountain Fibers
These amazing Fusion skeins are a mix of 8 different fibers and textures for a total of 500 yards of worsted weight yarns all dyed together. The yarns include: baby alpaca/polyamide (fluffy halo yarn), Polwarth wool/silk (85/15), large loop boucle mohair, small loop boucle (alpaca/bamboo/wool), single ply merino, blue-faced Leicester wool, sparkle (merino/silk/sparkle), and multi ply merino. Each fiber absorbs the dye differently to create the beautiful range of shades within each of the colorways choices of Garnet or Cobalt.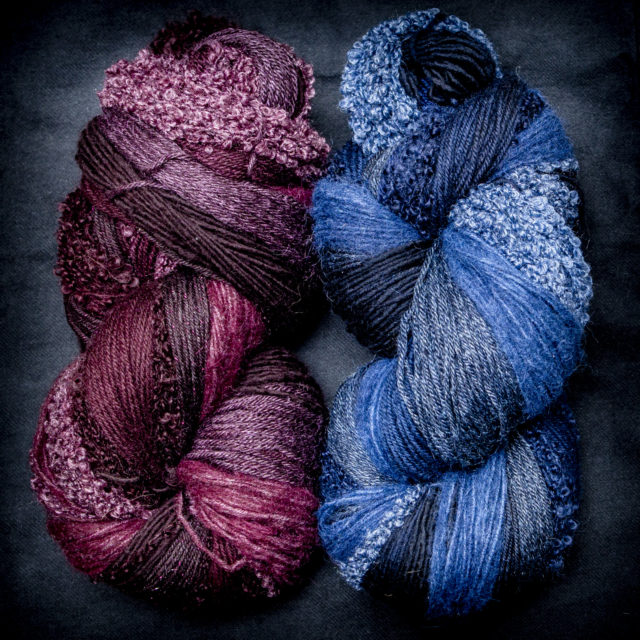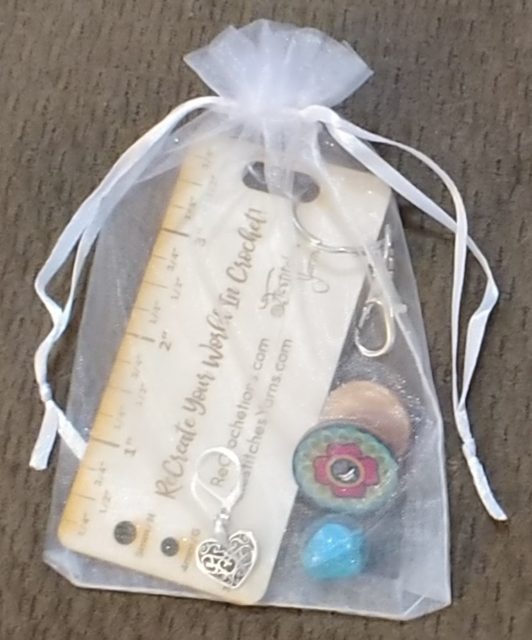 A Bag of Useful Little Goodies
Each member of our team contributed…
Magic Buttons
An original closure for a garment or shawl designed and created by Katherine Greer. Choose the side that matches best and tuck the back button between the loops of your Wrapghan to hold in snuggly around your shoulders. The Magic Buttons included in this kit is made of a wooden decorative button, inspired by Clyde's painted buttons, and a reclaimed vintage button. We can just imagine Ned searching through her mother's drawers or her grandmother's button basket (as Katherine did) for just the right buttons. Each one is unique!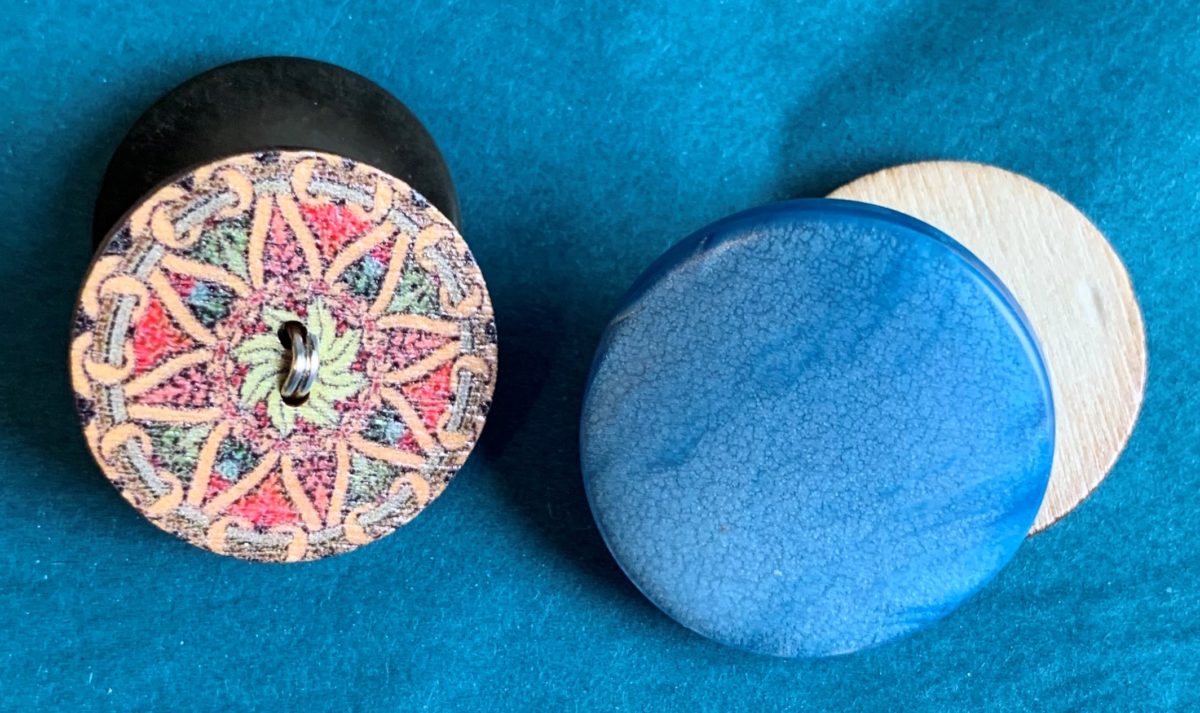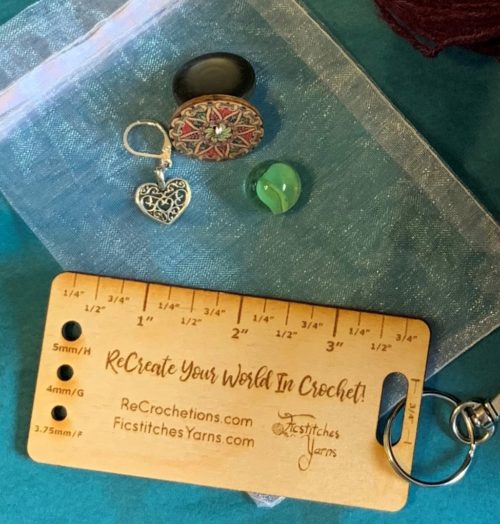 Custom Lasercut Rulers
Wanting to make it easy for crocheters to get even loops while learning the Love Knot (or Soloman's Knot) stitch featured in the pattern, Laurinda worked with Christy Nelson of Makit Takit: Lincoln's Craft Studio in Lincoln, Nebraska. Together they designed this handy tool Christy laser cut and finished for us, featuring a 4″ ruler to check gauge (and loop length), 3 holes for checking common hook sizes, and even a 3/4″ long hole for measuring Love Knot loops, wide enough to put your hook through or attach a key chain.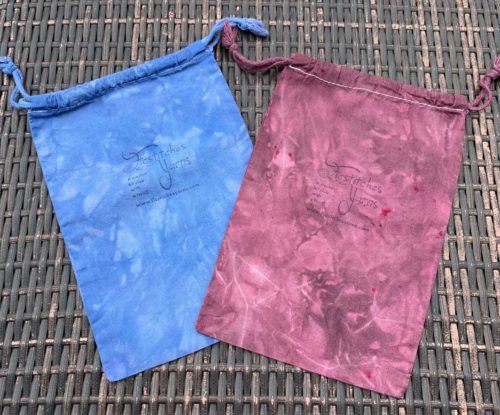 Stitch Marker and Marble
We also acknowledged two of Ned's favorites. A Stitch Marker for her best friend Tommy with a tiny replica of his family's Heart Pendant, made by our newest addition Cecillie Bond. For an added bit of fun, our author C. Jane threw in one of the Marbles she and the Tin Can Gang play with throughout the story.
Are you ready for another year of Adventure?
Our Fall 2019 Kit Club is now on sale for Preorder until July 31st only and will include Part One of a brand new story (about Ned all grown up) taking place during World War II, as well as all of the usual surprise goodies you've come to expect from Ficstitches Yarns! Join the Adventure!